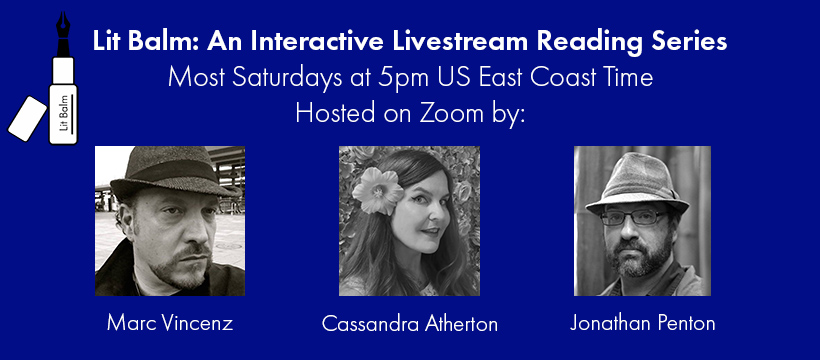 Founded by Larissa Shmailo, Jonathan Penton, and Marc Vincenz
Most Saturdays at 5pm US East Coast Time
LIT BALM is a biweekly interactive livestream reading series brought to you by Marc Vincenz of MadHat and New American Writing (Magazine), Jonathan Penton of Unlikely Stories Mark V and Unlikely Books, and Cassandra Atherton of Westerly Magazine. Most Saturdays at 5:00 pm East Coast time expect great writing, panels, open mic, and you!
Upcoming Readings
Saturday, December 2: The SurVision Weekend Part I: Charles Borkhuis, George Kalamaras, Charles Kell, Tony Kitt, Jon Riccio, and Marc Vincenz
Sunday, December 3: The SurVision Weekend Part II: Clayre Benzadon, Alison Dunhill, Helen Ivory, Dominique Hecq, Andrew Joron, and Jake Sheff
Saturday, December 9: The BlazeVOX Show: Tiffany Troy, Mitchell Glazier, Kyle Liang, Rebecca Tseng, and Kelly Canaday
Saturday, December 16: The Chive Collective: Eileen Cleary, Christine Bess Jones, Gloria Monaghan, and Anne Elezabeth Pluto
Saturday, January 20, 2024: Vyt Bakaitis, Tinker Greene, Bill Benton, and Kimberly Lyons
Previous Readings and Panels
2020:
April 4: Founders' Reading: Marc Vincenz, Larissa Shmailo, and Jonathan Penton
April 11: John Warner Smith and Celestine Woo
April 18: Indran Amirthanayagam and Carol Frost
April 25: Annie Finch and Hari Alluri
May 2: Donald Revell, Joseph Lease, & David Blair
May 9: Norman Finkelstein, Terese Svoboda, and Kristina Andersson Bicher
May 16: The New Orleans Poetry Festival: Bill Lavender and Megan Burns
May 23: Amy King, Kevin Gallagher, and Joanna Solfrian
May 30: Founders' Reading: Jonathan Penton, Larissa Shmailo, and Marc Vincenz with special guests Paul Hoover, Maria Baranda, and Alexandria Peary
June 6: Looking Back on the Future of Poetry: Robert Archambeau, Mark Scroggins and Sally Connolly
June 13: Richard Jeffrey Newman, Patricia Spears Jones, and Dean Kostos
June 20: Aidan Rooney, Eddy Toussaint Tontongi, Mary O'Donoghue and Daniel Tobin
June 27: Nicole Cooley, Vincent A. Cellucci, Christopher Shipman and Maura Way
July 4: Founders Reading: Jonathan Penton, Larissa Shmailo, and Marc Vincenz with special guests Jerome Sala, Elaine Equi and John Yau
July 11: The Russian Panel: Irina Mashinski, Philip Nikolayev, Alexander Skidan, and Matvei Yankelevich
July 18: Fiction Night: Maurice Carlos Ruffin, Daniel A. Olivas, and Michael C. Keith
July 25: The Lower East Side Poets: Ron Kolm, Thad Rutkowski, and Jeffrey Wright
August 1: CA Conrad, Anna Halberstadt, Tara Campbell and Bill Yarrow
August 8: Emerging Poets: Karina van Berkum, Noah Burton, Lisa Rosinsky and D. Eric Parkison
August 15: The Gaudy Boy Showcase: Lawrence Lacambra Ypil, Jenifer Sang Eun Park and Paula Mendoza
August 22: Australian Poets: Cassandra Atherton, John Kinsella, Shastra Deo, and Judith Crispin
August 29: Founders' Reading: Marc Vincenz, Larissa Shmailo, and Jonathan Penton with special guests Quincy Troupe and Keith Flynn
September 5: Rae Armantrout, Wang Ping, Lee Ann Brown, and Rion Amilcar Scott
September 12: Translation Panel: John Taylor, Elizabeth T. Gray, Jr., Alexander Dickow, and Lea Graham
September 19: Open Mic in conjunction with 100 Thousand Poets for Change
September 26: Janet Hamill, Maureen Owen, Mark Statman and Bob Holman
October 3: The Epic Rites Showcase: William Taylor Jr., Wolfgang Carstens, Julie Valin, and Todd Cirillo
October 10, Week One of the Lit Balm ZOOMATHON: Guest Moderator Tara Campbell and readers Charles Bernstein, Wendy Taylor Carlisle, Andrei Codrescu, Alison Hedge Coke, Martha Collins, Annie Finch, Joanna Fuhrman, Christopher Gonzalez, Erica Jong, Mark Pawlak, Lloyd Schwartz, John Skoyles, Timothy Steele, Terence Winch, and Damon Young!
October 17, Week Two of the Lit Balm ZOOMATHON: Guest Moderator Indran Amirthanayagam and readers John Wall Barger, David Blair, Hugo Burnham, Stephanie Burt, Jiwon Choi, Peter Cooley, Stuart Dischell, Camille Dungy, Martin Espada, Luis Francia, Nick Hakim, Jack Hirschman, Dorothea Lasky, Sara Cahill Marron, Roy Nathanson, David Rivard, Maurya Simon, and Baron Wormser!
October 24, Week Three of the Lit Balm ZOOMATHON: Guest Moderator Patricia Spears Jones and readers Kazim Ali, Margo Berdeshevsky, Chard deNiord, Mark Doty, Cornelius Eady, Carolyn Forché, Rachel Hadas, Kimiko Hahn, Tim Z. Hernandez, Denize Lauture, Dick Lourie, Jamie Manrique, Paul Muldoon, Naomi Shihab Nye, Jennifer Rathbun, Elaine Sexton, Mervyn Taylor, Anne Waldman, Chavisa Woods, and Sandy Yannone!
October 31: The Halloween Party: Patricia Carragon, Michael Anania, Big Mike, and Robert Archambeau with his daughter Lila
November 7: Mark DuCharme, Allison Joseph, Richard Peabody, Maxine Chernoff, and Kelli Stevens Kane
November 14: Steven Cramer, Joyce Peseroff, Gail Mazur, and Enzo Surin
November 21: Pierre Joris and Nicole Peyrafitte
Sunday, November 22, 5pm US East Coast Time: A Special Episode in conjunction with Arts and Letters journal: "The Literary Bohemian," poems and conversation with Robert Archambeau, Amish Trivedi, Penelope Rosemont and Michael Gregory Stephens
November 28: Daphne Gottlieb, Dawad Philip, Laura Mullen, and Mark Spitzer
December 5: Anthony Madrid, Dara Wier, Johannes Göransson and Timothy Liu
December 12: Anne Elezabeth Pluto, Pui Ying Wong, Tim Suermondt, and Gloria Mindock with guest MC Karina van Berkum
December 19: Stephen Dunn, Maurya Simon, Susana H. Case, and Margo Taft Stever with guest MC Indran Amirthanayagam
December 26: Founders' Reading: Marc Vincenz, Jonathan Penton, Cassandra Atherton and Larissa Shamilo with special guests Grace Cavalieri, Joshua Corey and Kayla Rodney
2021:
January 2: New Year's Party with Lloyd Schwartz, Kristina Marie Darling, Rick Lupert, Jessica Wilkinson, and Willis Gordon
January 16: Little Mr. Prose Poems: A Russell Edson Tribute, with Readings of Letters and Prose Poems, featuring Nin Andrews, Denise Duhamel, Chard deNiord, Maxine Chernoff, Gian Lombardo, Jeff Friedman, Mary Koncel, Peter Johnson, and Cassandra Atherton
January 30: New Zealand Poets: Iain Britton, Lisa Samuels, and Jen Crawford
February 13: Barrelhouse Magazine showcase: Meghan Pipe, E.J. Schwartz, Jose Hernandez Diaz, Naomi Ayala, and John Mark Brown with guest MC Tara Campbell
February 20: MadHat Press New Writers showcase: Kimberly L. Becker, Roy Nathanson, MG Stephens, Joshua Corey, John Warner Smith, Joanna Solfrian, and DeWitt Henry
February 27: Michael T. Young, Nandini Bhattacharya, Jeannine Ouellette, Carrie Farley, and Mitchell L. H. Douglas with guest MC Rodney A. Brown
March 13: Rooms and Spaces: Holly Iglesias, Rodger Kamenetz, Paul Hetherington, and Jane Monson
March 27: Lyn Hejinian, Jeff Friedman, Nin Andrews, and Dzvinia Orlowsky
Sunday, March 28: The Poets of the New Orleans Poetry Festival: Kataalyst Alcindor, Jessica Kinnison, Izzy Oneiric, and Amanda Emily Smith
April 10: In cooperation with the New Orleans Poetry Festival: Singapore-Connected Authors: Rachel Blau DuPlessis, Marylyn Tan, George Szirtes, and Ranjit Hoskote with guest MC Alvin Pang
April 17: In cooperation with the New Orleans Poetry Festival: Dominican Poets: Rhina P. Espaillat, Jose Enrique Delmonte, Soledad Alvarez, and Juan Matos with guest MC Susan Dickey
April 24: In cooperation with the New Orleans Poetry Festival: The Magic Show: Dorianne Laux, Andrew Joron, Bruce Bond, Hank Lazer, and Ruth Lepson
May 8: Matthew Zapruder, Vahni Capildeo, Andre Bagoo, and Timothy Gager
May 15: The Writing Resilience Showcase: Ann Bogle, Lydia Cortes, Paula Curci, Sandra Kleven, and Meg Tuite
May 22: Mags Webster, Jennifer Barber, Sharmistha Mohanty, and Joel Chace
June 5 at 7pm Eastern: The Ecopoetics reading: Gary Snyder, Wang Ping, John Kinsella, Allison Adelle Hedge Coke, and Tracy Ryan
June 19: Diane K. Martin, Helen Ivory, Alyson Miller, and Fred Marchant
June 26: The Launch of New American Writing 39: Paul Hoover, Elizabeth Robinson, Wang Ping, Huang Fan, Mark Statman, Efrain Velasco Sosa, David Blair, and Karla Kelsey
July 10: Timothy Donnelly, Valzhyna Mort, Danielle Blau, and Chase Twichell
July 17: Founders' Reading with Special Guests Martin Figura, Jane Clarke, and t thilleman
Saturday, July 31: The Surrealist Extravaganza part 1: Dean Young, Anatoly Kudryavitsky, Clayre Benzadon, Dominique Hecq, dan raphael, and George Kalamaras with a panel by Andrew Joron, Penelope Rosemont, Dean Young, and the Jeffrey Cyphers Wright Surrealist Puppet Show
Sunday, August 1: The Surrealist Extravaganza part 2: Will Alexander, Penelope Rosemont, Charles Kell, Tony Bailie, Oz Hardwick, Eugen Bacon, and Ruby Truitt's Surrealist Multimedia Show
Saturday, August 7: The Surrealist Extravaganza part 3: Charles Alexander, Luke Beesley, Andrew Joron, Maxine Chernoff, Jeffrey Cyphers Wright, Stuart Ross, FJ Bergmann, Linda Black, and Dahlia Fatale's Contortionist Show
Sunday, August 8: The Surrealist Extravaganza part 4: Andrew Joron, Charles Bernstein, Robert Archambeau, Carrie Etter, Paul Hoover, Sam Truitt, Michael Ruby, Nikki Javicilo, Ciaran O'Driscoll, and Pierre Joris and Nicole Peyrafitte
Saturday, August 14: The Women of Hanging Loose Press: Jiwon Choi, Keri Smith, Caroline Hagood, and Joanna Fuhrman
Saturday, August 28: The Pirates of Poetry: Michael Rothenberg, Adeena Karasick, Dylan Krieger, Davis Schneiderman, and bart plantenga
Saturday, September 4: Linda Pastan, Rose Solari, Jeanne Nordhaus, and Karren Alenier
Saturday, September 11: DeWitt Henry, Bob Heman, Cindy Hochman, Ralph Culver, and Jon Wesick
Saturday, September 18: Dan Chiasson, Maureen N. McLane, Sandra Lim, and Katie Peterson with guest MC David Blair
Saturday, October 2: Hannah Sullivan, Kathleen Ossip, Julia Story and Peter Campion with guest MC David Blair
Saturday, October 9: Full-Length Open Mic in Memory of Paul E. Sexton III
Saturday, October 16: The Poetry on the Move Festival spotlights Canberra: Kimberly Williams, Jen Webb, Paul Munden, Shane Strange, Gemma Nethercote Way and Paul Hetherington
Saturday, October 23: Mervyn Taylor, Sara Cahill Marron, Jennifer Rathbun, and Indran Amirthanayagam
Saturday, October 30: Halloween Party with Horror Poetry emceed by FJ Bergmann with Linda D. Addison, Denise Dumars, Ken Poyner, Jon Reinhart, and Stephanie M. Wytovich
Saturday, November 6: Major Jackson, Didi Jackson, DA Powell and Sam Witt with Guest MC David Blair
Saturday, November 20: Julie Metz, Ian Seed, Sufiya Abdur-Rahman, and Clifford Garstang
Saturday, December 11: The release of spoKe 8 with guest MC Kevin Gallagher: Helen Ivory, Wang Ping, Marc Vincenz, and the ghost of Delmore Schwartz as channelled by Ben Mazer
Sunday, December 26: Founders' Reading with special guests Elaine Equi, Maxine Chernoff, and Martine Bellen
2022:
Saturday, January 15: Special Feature on the life and work of Michael Anania featuring Maxine Chernoff, Robert Archambeau, Cynthia Davidson, Mary Biddinger, Orlando Ricardo Menes, Kristy Odelius, Garin Cycholl, Reginald Gibbons, and Michael Anania!
Saturday, February 12: Special Feature on the life and work of Denise Levertov featuring Arthur Sze, Margo Taft Stever, Dick Lourie, Susan Eisenberg, David Shaddock, Mark Pawlak, and Donna Krolik Hollenberg interviewing Mark Pawlak!
Saturday, February 26: Carolyne Wright, Susana H. Case, Maria Mazziotti Gillan, and Lillo Way
Saturday, March 12: Glynn Maxwell, Ben Mazer, Andreea Iulia Scridon, Katia Kapovich, and Philip Nikolayev
Saturday, April 9: Feature on the life and work of Paul Hoover with Maxine Chernoff, Donald Revell, Wang Ping, Claudia Keelan, Gillian Conoley, Joseph Lease, Elaine Equi, Sharon Mesmer, and Aurelia Cortes Peyron
Saturday, April 23: 50 Years of Ploughshares Poetry: A celebration of the Winter '21-'22 issue featuring Rebecca Foust, Tatiana Johnson-Boria, John Okrent, Kwame Dawes, John Skoyles, and DeWitt Henry
Saturday, April 30: Forrest Gander, Joe Safdie, Aliki Barnstone, and Liana Sakelliou
Saturday, May 7: The Tupelo Books Weekend: Chloe Honum, Corey Van Landingham, Maggie Queeney, Michael Haight/Cutter Streetby, Cindy Savett, and Tyler Mills
Sunday, May 8: The Tupelo Books Weekend: Sean Singer, Iliana Rocha, Lawrence Raab, and Nicholas Rigiacorte
Saturday, May 14: Indran Amirthanayagam, Kashiana Singh, Anita Nahal, and Sophia Naz
Saturday, May 21: The Perfume Show: Megan Volpert, Henry Hoke, Donna de la Pierrere, and Moira Egan
Saturday, May 28: Mary Jo Bang, Charles Fort, Kate Gale, and Fred Marchant
Saturday, June 4: I Wanna Be Loved By You: Poems on Marilyn Monroe: David Lehman, Nin Andrews, Angela Dribben, Heidi Seaborn, Sebastian Matthews, Robert Anthony Gibbons, CAConrad, Dawad Philip, George Guida, Karen Neuberg, Ann Cefola, Joel Allegretti, Baron Wormser, Marilyn Robertson, Nick Makoha, Mervyn Taylor, and Susan Erickson with guest MCs Margo Stever and Susana Case
Saturday, June 11: Martin Figura, George Szirtes, Clare Shaw, and Jessica Mookherjee with guest MC Helen Ivory
Saturday, June 18: Joseph Lease, Megan Breiseth, Tod Edgerton, and Sheila E. Murphy
Saturday, June 24: The Slapering Hol Show: Margo Stever, Mervyn Taylor, Suzanne Cleary, and Ann Lauinger
Saturday, July 23: Hank Lazer, Jake Marmer, Carlie Hoffman and Elizabeth Metzger
Saturday, August 6: Arielle Greenberg, Kristin Sanders, Bianca Stone, and Carrie Chappell
Saturday, August 20: Choice Words: Writers on Abortion: Marge Piercy, Carol Muske-Dukes, Molly Peacock, Larissa Shmailo, and Annie Finch
Saturday, August 27: Marc Vincenz's Birthday Reading, with friends of Marc reading his work: Larissa Shmailo, Helen Ivory, Martin Figura, David Blair, Robert Archambeau, Kevin Gallagher, Ray Barfield, Wang Ping, Dominique Vincenz, Gloria Mindock, Pui Wong, Tim Suermondt, Maxine Chernoff, Peter Johnson, Lea Graham, Karina van Berkham, Ben Mazer, DeWitt Henry, Paul Hoover, Jon Wesick, Cindy Hochman, Bob Heman, t thilleman, Michael Anania, and Susan Dickey
Saturday, September 3: Tara Betts, Saida Agostini Bostic, and Teri Ellen Cross Davis
Saturday, September 10: Anjali Mitter Duva, Susan Blumberg-Kason, Whitney Sharer, and Yelena Lembersky
Saturday, September 17: Flash Fiction Show: Meg Pokrass, Jeff Friedman, Michael C. Keith, Robert Scotellaro, and Kim Chinquee
Saturday, September 24: The Hudson Valley Writers Center Show, Part I: Dorianne Laux, Leila Chatti, Liz Marlow, Nick Makoha, and Andrea Deeken
Sunday, September 25: The Hudson Valley Writers Center Show, Part II: Nathan McClain, Joan Kown Glass, Sean Singer, Jennifer Franklin, and Fred Marchant
Saturday, October 1: The Unlikely Stories Show: Meg Tuite, Mark DuCharme, henry 7. reneau, jr., Kayla Rodney, and Jared Schickling
Saturday, October 8: Tracy K. Smith and Alfred Corn
Saturday, October 15: The Lavender Ink Show: John Warner Smith, t. thilleman, Jonathan Kline, Luis Bravo with translator Catherine Jagoe, and Zvonko Karanović with translator Biljana D. Obradović
Saturday, October 29: Erika Wurth, Lynn Melnick, Caroline Hagood, and Shira Denz
Saturday, November 5: The DADA Weekend Part I: Louis Armand, Valery Oisteanu, Philip Meersman, Robert Archambeau, Heide Hatry, and Jane Le Croy
Sunday, November 6: The DADA Weekend Part II: Vik Shirley, Gareth Jenkins, Elise Houcek, Anatoly Kudryavitsky, Andrew Joron, Charles Bernstein, Lloyd Schwartz, and Carla Harryman
Saturday, November 12: The Life and Work of Peter Michelson with Michael Anania, John Matthias, Judith Aplon, Jennifer Dorn, Luis Urrea, Simone Muench, Matthew Cooperman, Susan Dingle, and Mark Spitzer
Saturday, November 19: Bruce Bond, Sharon Mesmer, Virginia Konchan, and Walt Hunter
Saturday, December 3: Alice Allan, Philip Belcher, Alexis Ivy reading Barbara Helfgott Hyett, and Aditi Machado
Saturday, December 10: From the Surreal to the Subarctic: Cole Swensen, Garrett Caples, John Thomas Allen, Clayre Benzadón, and Sara Cahill Marron
Saturday, December 17: The Dean Kostos Memorial Show with readings of Dean's work by Elaine Equi, Jerome Sala, Patricia Spears Jones, Rachel Hadas, Alfred Corn, Trace Peterson, Sharon Mesmer, Bonnie Walker, Karen Neuberg, Isa Guzman, Panos Bosnakis, Kimi Ramirez, Ron Kolm, Molly Peacock, Tod Thilleman, Thaddeus Rutkowski, Alice Lacey, and Larissa Shmailo
2023:
Saturday, January 7: The Clockwise Cat Show presented by Alison Ross: Marie Lecrivain, Karen Neuberg, Patricia Carragon, Giorgia Pavlidou, Heller Levinson, and John Olson
Saturday, February 11: The Lit Balm Weekend of Love Part I: Helen Ivory, Martin Figura, Tom Whalen, Lisa Brockwell, Paul Hetherington, Alice Pettway, Timothy Fitts, Gloria Mindock and Gary Young
Sunday, February 12: The Lit Balm Weekend of Love Part II: Allison Hedge Coke, Suzanne Buffam, Ann Vickery, Oz Hardwick, D. Nurkse, Patricia Carragon, Karina van Berkhum, Virginia Bell and Philip Nikolayev
Saturday, April 22: Ode to Spring Part I, Trees: Sy Hoahwah, Angela Narciso Torres, Valencia Robin, Rachel Hadas, Ellen Kaufman, and George Kalogeris guest-hosted by Fred Marchant, Jennifer Barber and Jessica Greenbaum
Sunday, April 23: Ode to Spring Part II, Critters: John Kinsella, Anne Elvey, Martine Bellen, Helen Ivory, John Wall Barger, and Alice Pettway
Saturday, May 6: Caroline Hagood, James Tate Hill, and Melissa Ostrom
Saturday, May 27: Adam Scheffler, Camille Guthrie, Hoyt Rogers, and Yves Bonnefoy and André du Bouchet (read and translated by Hoyt Rogers)
Saturday, June 17: May the Muses Be With You with DeWitt Henry, Paul Hetherington, Lindsey Martin-Bowen, Caroline Reddy, Michael Sofranko, and Sandra Tyler with guest MC Kurt Lovelace
Saturday, August 12: Guest Host Kristina Marie Darling with Ruth Danon, Clifford Garstang, David Groff, Adrie Kusserow, Carol Mitchell, James Morehead, and L.J. Sysko
Saturday, August 26: Marc Vincenz's Birthday Show with Vik Shirley, Amelia Walker, Lea Graham, Gary Fincke, Robert Archambeau, Alex Cigale, and Eva Salzman
Saturday, September 9: John Hennessy, Ru Freeman and Nathan McClain
Saturday, September 23: The Red Wheelbarrow Poets: Claudia Serea, John J Trause, Anton Yakovlev and Arthur Russell
Saturday, October 7: Susannah Case, Myra Malkin, and Hilary Sideri
Saturday, October 14: Claudia Keelan, Jeffrey Cyphers Wright, Terence Winch, Kyle Harvey, and Annabel Lee
Saturday, October 28: The Invisible Walls Show: Barrina South, Jake Levine, Emily Sun, Ko Hyeong Ryeol, Peter Boyle, Ann Vickery, Autumn Royal, Kevin Brophy, Lee Sumyeong, Šime Knežević, and Samantha Faulkner
Saturday, November 11: Mark Scroggins, Norman Finkelstein, Roxi Power, Aby Kaupang, and Uri Rosenshine